Microneedling
Collagen Induction Therapy with no Downtime
Effective treatment for minor scarring related to acne, wounds, and aging. You'll enjoy brighter, firmer skin, too.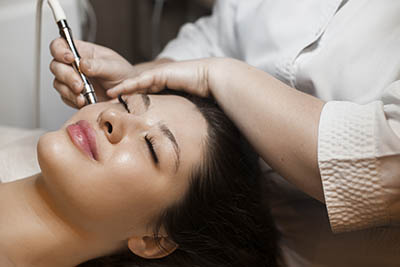 What is Micro-Needling?
Microneedling is a simple, safe, effective, and minimally invasive therapeutic technique. It was initially introduced for skin rejuvenation. Now it is being used for a wide range of conditions including acne scar, acne, post-traumatic/burn scar, alopecia, skin rejuvenation, drug delivery, hyperhidrosis, stretch marks, and many more.
Moreover, during the last 10 years, many modifications have been made to the initial instrument, which was used for microneedling. This technique can be combined with other surgical techniques to provide better results. In particular, it is a very safe technique for dark skin types, where the risk of postinflammatory pigmentation is very high with other techniques that damage the epidermis.
Application & Effect
Skin tightening, lifting and rejuvenation
Reduces fine lines and wrinkles
Improves stretch marks
Minimizes pore size
Improves keloid, surgical and acne scars
What is the Process?
This fractional micro-needling device is combined with a unique spring-loaded disposable needle tip that uses an automated, vibrating stamp-like motion that enhances results while offering a more controlled and safe method of treatment than other micro-needling devices, all while causing less epidermal damage.
Multiple needles vertically stamp the epidermis, penetrating all skin types, textures, and pigments without the risk of bending, breaking, or causing more epidermal damage than needed. It easily maneuvers around all delicate facial contours and features.
The automated needling motion minimizes pain and discomfort while increasing the effectiveness of treatments by promoting an even absorption of topicals into the skin. It is as effective as Fractional Laser Therapy and IPL, but has a significantly shorter recovery period. Micro-needling offers exceptional results, all at a fraction of the cost.
Micro-Needling Effects on Skin
Micro-needling helps improve the thickness of the dermis and epidermis and by doing so, improving skin texture and reducing wrinkles. It also has a positive effect on hyper and hypo-pigmentation (uneven skin color/texture). Scars, especially acne scars, can also many times be improved with new collagen fibers elevating the depressed scar tissue. An improved blood supply to the previous fibrotic scar tissue can also improve the pigmentation of the outer layers of the skin.
Preparing for Treatment
Please ask your esthetician for treatment instructions if you are taking Retin A, autoimmune therapies, or have extreme and active acne or other severe skin conditions.
Avoid sun exposure to the face
Do not apply make-up on treatment day
Post-Treatment Experience
You will look as though you have a moderate to severe sunburn and your skin may feel warm and tighter than usual. This is normal and will subside after 1 to 2 hours and will normally recover within the same day or 24 hours. Your practitioner will prescribe a post-procedure skincare regime.
After an ultrasonic cavitation treatment, you should be able to stand up and drive yourself home.
Pain and bruising are usually minimal. You'll be instructed to hydrate as much as possible after the procedure to help your body flush the fatty cells through your lymphatic system.
But don't expect to see results right away. Right after your appointment, your body might feel puffy or swollen. It takes time for your body to break down and dissolve the fat cells that have been dislodged.
You may also require repeated treatments to see visible results. Most candidates for this treatment see their final result within 6 to 12 weeks. On average, treatment requires 1 to 3 visits for visible results.
Results of this treatment are permanent, as long as you maintain a healthy diet and exercise. If you have a non-active lifestyle, fat deposits may return to areas that have been treated.