HydraFacial
Skin rejuvenation for a healthier, radiant appearance
Effective treatment for a number of problematic skin conditions.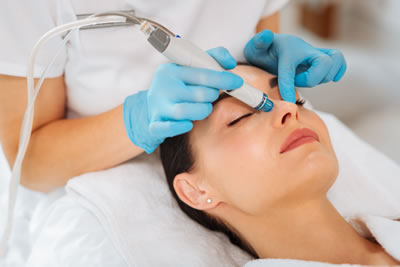 What Is HydraFacial
The celebrity-famous HydraFacial treatment is a gentle and effective multi-step procedure that integrates a variety of skin rejuvenating methods in order to give you a healthy, radiant appearance. It combines cleansing, exfoliation, extraction, and hydration — making it a very popular facial treatment.
Who can benefit from a HydraFacial treatment?
HydraFacial is unique and can be used to treat all ages, skin colors, and skin types. Treatments are customizable to your specific concerns so those with sensitive skin and even acne can be treated. HydraFacial treatments are effective for a number of problematic skin conditions including:
Enlarged pores
Acne
Fine lines and wrinkles
Sun damage and brown spots
Uneven skin tone and texture
Oily and congested skin
Elasticity and firmness
You won't have to avoid the sun after your HydraFacial treatment. This procedure can be done at any time of the year without worrying about photosensitivity.
How to Prepare
There is a list of preparation that includes:
Not tanning or using self-tanner
Avoiding any aggressive scrubs or face masks
Not getting any injectable fillers
Discontinuing your use of prescription-strength Retin A
What is the Process?
This skincare treatment is done in a four-step process that will transform your skin from dull to radiant in only 30 minutes.
Cleansing & Exfoliation: Your aesthetician will give you a manual cleansing by gently exfoliating the outer layers of your skin. Then a device is used that incorporates both water pressure and a textured tip to remove impurities which provides a much deeper cleansing.
Acid Peel: A mixture of glycolic and salicylic acid chemically exfoliates your skin which will remove dirt and debris found deep in your pores that manual cleansing methods cannot remove.
Extraction: A vortex extraction tool is used to painlessly suction blackheads, dead skin cells, excess oil, and impurities from your skin.
Hydration: Finally, you will receive a deep moisturization from a combination of serum boosters potent peptides, and hyaluronic acid. Soothing gels can also be used to keep your complexion cool, hydrated, and bright.
What Results You Can Expect?
You will see a more radiant complexion almost immediately after your HydraFacial treatment. Your skin will be soft and glowing from how well it is hydrated and your pores be visibly smaller.
Multiple HydraFacial treatments are recommended for optimal results. Doing so will maximize the benefits and ensure that you maintain your beautiful, glowing results. It is recommended that you start with four to six HydraFacial treatments performed around two weeks apart.
Post-Treatment Experience
There is absolutely no downtime required after undergoing a treatment session and you won't need to worry about skin irritation. That's one of the great benefits of HydraFacial treatments and can resume regular activities immediately after your treatment session. There are just a few post-treatment things to keep in mind that include:
Avoid washing your face or showering for 6 hours
No rigorous physical activity for about 6 hours
For 2 weeks after your session avoid any chemical peels or microdermabrasion
For 2 days after your treatment, do not use any chemical exfoliants
Sunscreen should be applied every day for at least one week after your treatment