Microdermabrasion
Reduce fine lines, mild acne marks, and early sun damage
 For a more radiant complexion and firmer, younger-looking skin.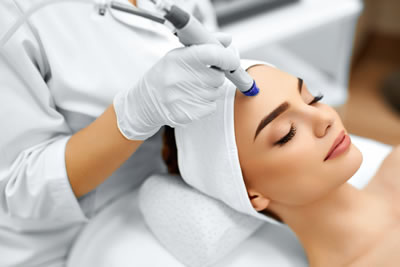 Microdermabrasion, a popular procedure since it was introduced in 1996, is a quick and painless cosmetic treatment with no downtime and minimal risk. Reducing fine lines, early sun damage and treating mild acne marks for an improved skin appearance are the primary uses for Microdermabrasion. It is not a solution for deep acne scars or deep wrinkles. The face is the most common area for microdermabrasion use. The neck, chest, back, and hands may also be treated.
What is the Process?
The procedure is done in-office and usually takes about one hour. A Microdermabrasion treatment does not require anesthesia or a numbing agent.
You will be seated in a reclining chair during the procedure. A handheld device is used to gently spray particles to exfoliate dead cells on the outer layer of skin in the targeted areas, and the device simultaneously suctions off the exfoliated cells. A moisturizer, as well as sunscreen, will be applied to your skin at the end of the treatment.
Post-Treatment Experience
There is little to no downtime after microdermabrasion, and your daily activities can resume right away.
A Mild pinkness of the skin is the desired outcome and usually resolves within minutes to hours after microdermabrasion. Mild exfoliation of the skin may also occur.
Patients may also experience a mild sunburn-like sensation for a few days.
You will need to keep your skin hydrated and use gentle skincare products. Do not topical acne medications for at least one day after treatment. It is important to protect your skin with sunscreen as your skin will be more sensitive to the sun in the few weeks following your treatment.
What results can you expect?
Noticeable results immediately after the procedure can be expected. The number of microdermabrasion sessions needed will depend on the severity of your skin concerns as well as your expectations.
Our staff will advise you and recommend a plan for the number of treatments required the achieve your desired results.